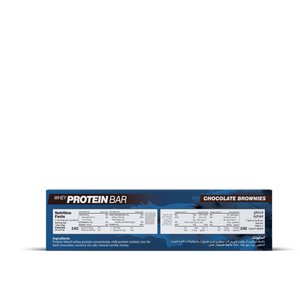 Chocolate Brownies Protein Bar - بروتين بار براونيز الشوكولاتة
Protein bar is a snack that is rich with many natural healthy ingredients and helps in providing the body with the required energy with low calories in several flavors that suit everyone.
Dark chocolate has high levels of antioxidants and minerals, it also lessens tension and enhances brain functions. Moreover, it provides satiation and helps in weight loss.
100% whey protein  - ١٠٠٪ واي بروتين
30% protein per bar - ٣٠٪ جرام بروتين
Low calories - سعرات حرارية قليلة 
Nutrition Facts
| | |
| --- | --- |
|  Calories(Energy) | 199 KCAL |
| Total Fats | 3 g |
| Saturated Fats | 1 g |
| Carbohydrates  | 13 g |
| Fibers | 2 g |
| Protein | 30 g |
| Sodium | Less than 2400 mg |